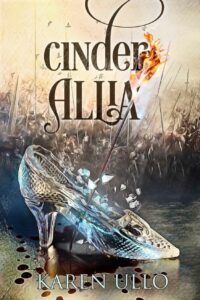 I am thrilled to announce that Believe Entertainment has purchased the film rights to Cinder Allia and will now begin fundraising for its eventual screen debut. When? In God's timing, of course, which I don't know any more than you do. But maybe someday, you'll get to watch Allia de Camesbry save the world in technicolor!
Cary Solomon and Chuck Konzelman of Believe Entertainment have already established themselves as some of the premier Christian filmmakers of our day with films like God's Not Dead and Unplanned. Now they're looking to expand their repertoire into fantasy, and, as those of you who've read Cinder Allia already know, it's a story made for film. Gorgeous settings, lots of action, war, intrigue, a crippled prince, a mysterious fairy godmother… Yes, of course I wrote it to become a movie someday. And now, it will have the opportunity.
If you didn't already believe in fairy tales, hopefully you do now!
Cinder Allia has spent eight years living under her stepmother's brutal thumb, wrongly punished for having caused her mother's death. She lives for the day when the prince will grant her justice; but her fairy godmother shatters her hope with the news that the prince has died in battle. Allia escapes in search of her own happy ending, but her journey draws her into the turbulent waters of war and politics in a kingdom where the prince's death has left chaos and division. Cinder Allia turns a traditional fairy tale upside down and weaves it into an epic filled with espionage, treason, magic, and romance. What happens when the damsel in distress must save not only herself, but her kingdom? What price is she willing to pay for justice? And can a woman who has lost her prince ever find true love? Surrounded by a cast that includes gallant knights, turncoat revolutionaries, a crippled prince who lives in hiding, a priest who is also a spy, and the man whose love Allia longs for most—her father—Cinder Allia is an unforgettable story about hope, courage, and the healing power of pain.