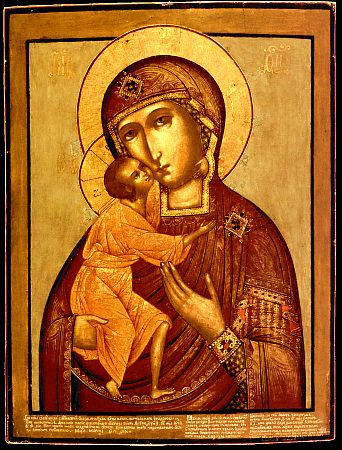 Today, August 15, is the day when we Catholics celebrate the Feast of the Assumption of the Blessed Virgin Mary, when the Mother of God was assumed body and soul into heaven to become the queen of heaven and earth. Most of us will go to Mass today and sing "Hail, Holy Queen" and perhaps a setting of the Magnificat or Salve Regina. We have a rich tradition of music with which to honor our mother.
But our brothers and sisters in the Orthodox Christian churches also have a rich devotion to the Blessed Mother, complete with their own set of really beautiful hymns written in a different musical idiom than we usually hear in Catholic churches, and very well worth listening to. So, here to put you in mind of our mother on this blessed day is sampling of Marian hymns borrowed from our brothers and sisters of the Orthodox faith.
The Angel Cried, hymn for the Paschal season
O Virgin Pure, Byzantine chant
Suplicatory Canon to the Most Holy Theotokos and Ever Virgin Mary
https://www.youtube.com/watch?v=b_6e9T1FpG8
Karen Ullo is the author of two novels, Jennifer the Damned and Cinder Allia. She is also the managing editor of Dappled Things literary journal and a regular Meatless Friday chef for CatholicMom.com. She lives in Baton Rouge, LA with her husband and two young sons. Find out more at www.karenullo.com.