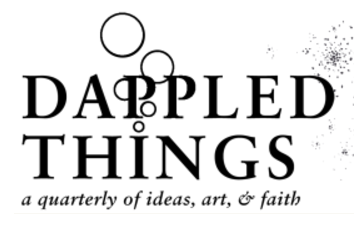 The impossibly smart, but possibly crazy, people over at the best literary journal ever needed a new managing editor… and for some reason, they allowed me to say I'd do it. It has been an honor and a challenge, writing for their blog these last several years, and now I am being challenged to support the DT mission of finding beauty through the lens of faith in a new and different way. So, please pray for me, and for all the staff, as we enter this exciting new time of transition. And if you haven't already done so, please consider subscribing. Every issue is filled with soul-stirringly beautiful things, which is why I'm so honored to be part of this truly wonderful team.
Glory be to God for dappled things –
   For skies of couple-colour as a brinded cow;
      For rose-moles all in stipple upon trout that swim;
Fresh-firecoal chestnut-falls; finches' wings;
   Landscape plotted and pieced – fold, fallow, and plough;
      And áll trádes, their gear and tackle and trim.
All things counter, original, spare, strange;
   Whatever is fickle, freckled (who knows how?)
      With swift, slow; sweet, sour; adazzle, dim;
He fathers-forth whose beauty is past change:
                                Praise him.
                              –Pied Beauty by Gerard Manley Hopkins
Karen Ullo is the author of two novels,
Jennifer the Damned
and
Cinder Allia
. She is also a regular Meatless Friday chef for Catholicmom.com. She lives in Baton Rouge, LA with her husband and two young sons. Find out more at www.karenullo.com.